Game Elements
The gameplay mechanics of Wishmere are the backbone of the game. As there are various terms and different mechanics in the game, digesting the elements listed here will improve a player's understanding and may contribute to a better gaming experience in Wishmere.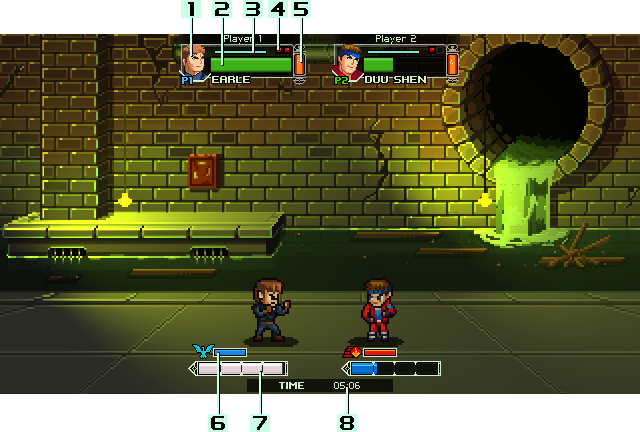 1 - Character Portrait
2 - Lifebar
3 - Guard Gauge
4 - Lives
5 - Fate Gauge
6 - Edge Gauge
7 - Super Meter
8 - Time
Moving is important and moving is fun (unless you're moving house). The good thing is: there's all sorts of movement!
Movement consists of:
Punching and kicking makes people look like uncivilized monkeys. Luckily, this is a game and punching and kicking in a game is A-OK.
Offense consists of:
Defending can turn things around like a laxative can turn things around. Yes, that's right.
Defense consists of:
If you know every type of attack type, it makes you a master. So, hurry and be a master.
Attack Types consists of the following:
Super Meter, Fate Gauge, Edge
[
edit
|
edit source
]
Super Meter, Fate Gauge and Edge. All the gauges... all the power!
Gauges consists of:
Making things link and making things hurt. Who doesn't like combos?
Combos consists of:
When things get hurt, what happens? Well, in real life and in-game, damage happens.
Damage consists of: